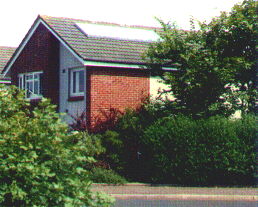 Welcome to Solar Energy Systems
Solar Energy Systems expertise lies with solar water heating and solar photovoltaic electricity (PV) installations. Solar water heating is the name given to the process where we use the power of the sun to heat up your hot water. Solar photovoltaic electricity (PV) is the process where we use panels made of a solar photovoltaic material that generates electricity. This will naturally reduce heating bills and running electricity costs of your home and your dependency on gas/electricity. At the same time you'll also be safe in the knowledge that you're doing your bit to save the environment.
The company was formed in the early 80's by a member of the Scottish Solar Energy group committee - Jim Norris. It is a small business based in Fife, Scotland and with it's first solar water heating installation in 1981 - making a successfull life span of over 30 years - we must be doing something right.
What solar heating services do we offer?
Solar Energy Systems offer a bespoke solar water heating or solar electricity PV installation into any property.
A solar water heating installation could range from heating the hot water for your domestic home through to heating a swimming pool.
A solar photovoltaic electricity (PV) installation could earn you up to £700 per year, tax free, index linked for 20 years due to a governmental incentive of feed in tariffs.
We also install Solar Slate air heating systems. This is an innovative way of utilising solar energy in a practical and cost-effective way to help make properties warmer, drier and fresher.
Of course there is even an oppertunity to combine all solar systems to truly reduce your dependancy on elecritcity and gas and save money in an environment where bills only seem to go up.

Please take a look around the site, it will give you some information and ideas about how solar water heating, solar photovoltaic electicity (PV) and solar air heating all works. If you like any further information
please click here to get in touch.
ISO 9001, REAL Assurance and MCS
Solar Energy Systems were accredited to the Moody International quality management standards ISO 9001 (2008 Revision) from 2000 throught to 2015.
Solar Energy Systems have also been members of the Microgeneration Certificate Scheme (MCS) and the REAL Assurance Scheme since the very beginning of the schemes through to 2018.

Solar, Solar Energy, Solar Energy Systems, Solar Systems, AES Panels, Solar Hot Water, Solar Heating, Solar Water Heating, Solar Installation, SOlar Heating Installation, Dunfermline, Fife, Scotland, Solar Fife, Solar Scotland, Solar Dunfermline, Solar Installation Scotland, Solar Installation Fife, Jim Norris, Jim, Norris, Quality, Quality Systems, Quality Solar Systems, Moody ISO 9001, Microgeneration, Energy Savings Trust, Bespoke Solar